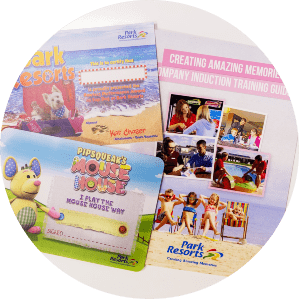 What were they looking to achieve?
If we're honest, Park Dean weren't looking for a new printer at the beginning. Like many of our customers, they already had someone looking after their print. However, we knew we could add value to their work. We don't believe in 'Just Good Enough'. We want everyone to realise their own 'amazing'. So we persevered and Park Dean agreed to have a discovery meeting with us.
Very quickly our shared values allowed us to explore what was possible, not what was already being done. With a wider picture from Park Dean we were able to put forward ideas and solutions.
In the early days, it started with promotional materials for their shows in the resorts. Today, we still do all of this, but we also now take care of all of their entertainment print management, fulfilment and 'in-park' marketing. If you're staying at a Park Dean resort, it's our job to make sure you know all the entertainment available – from sandwich boards to directional signage, from flyers in your welcome pack to decorating the stage. We help Park Dean to promote all of their entertainment.
As a trusted partner, Park Dean know that we will deliver what we have promised, on time and all with the usual service they have come to love from C2. Park Dean see us as a problem solver, not just a provider of products, coming up with creative solutions to their different scenarios.
"You always deliver. I give you a problem and you create ideas which then lead to the solution. I know I give you back breaking deadlines and you never let me down. My only regret is that I don't come in to see you enough to have more discovery meetings. What came out of those meetings helped me to excel in my job too."
STILL DON'T KNOW WHAT YOU NEED?
Brands we've made amazing!